E-mail: info@lumisenses.com
Phone: +372 6017 725 | +372 6004 028 | +372 6 229 257
E-mail: info@lumisenses.com
EYELASH EXTENSIONS TEHNOLOGY
CHOOSING LASHES FOR EYELASH EXTENSIONS IN THE RIGHT PHASE FOR LENGHTENING
The most ideal eyelashes for lenghtening are shown on the following scheme II PHASE.
They are already strong enough to hold the lenghtened lashes upright. Their great advantage is that their growth will continue for some. However, the number of such lashes is not sufficient for a perfect glamorous look.
Then III PHASE growing eyelashes are also extended, but since we do not know in which telogen time they are at the moment, it may happen that the extended lash might fall out on the next day or day after that.
It is forbidden to extend I PHASE growing eyelashes. These small hairs are not strong enough to hold the curved extensions upwards and due to their weight they might fall into sides (curtain effect) or fall out with the root (depilation effect).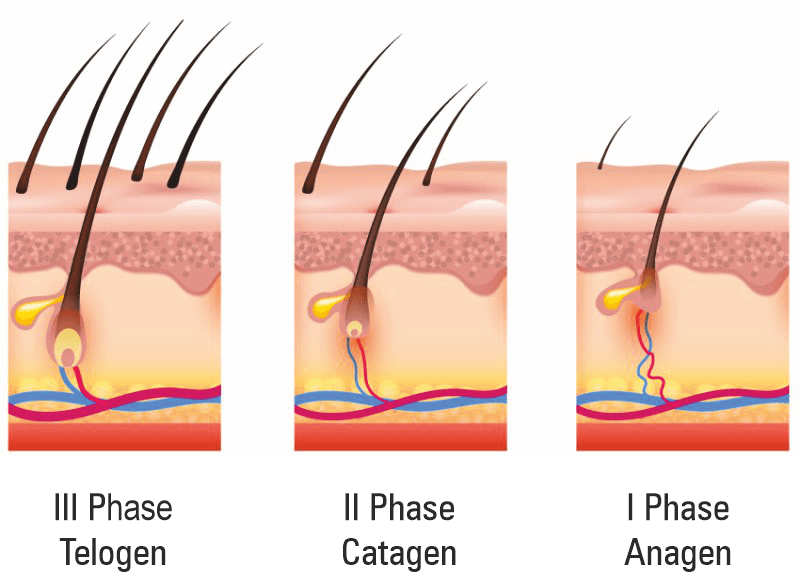 EYELASH EXTENSIONS TEHNOLOGY
The technology of lenghtening eyelashes is that eyelash extensions are joined one by one with a special lash glue on natural lashes at a distance of 0.5-1 mm from the skin (see following photo).
As a result, oxygen enters the lash root (hair bulb) freely and they can move freely without disturbing the natural growth cycle of the real lashes.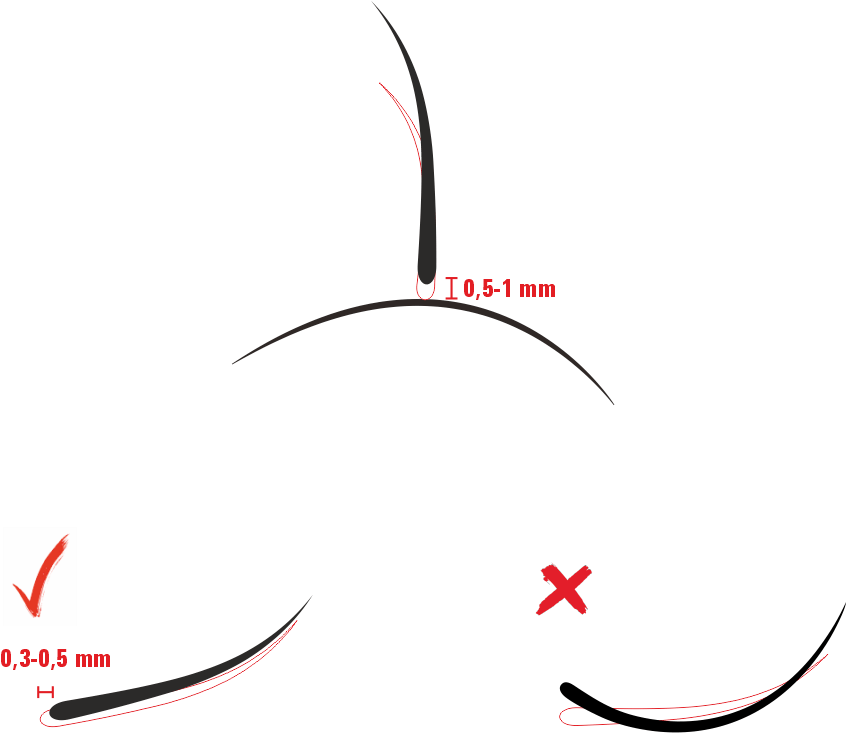 The advantage of this technology is its exceptionally natural appearance and the longevity of the lash construction – such lashes can be used in the gym, sauna, swimming pool, sunbathing, etc.
The eyelash technician chooses the appropriate eyelash extension length for each client, taking into consideration the rule that natural eyelashes may be extended only by 1/3 of the length of their own length (see following photo).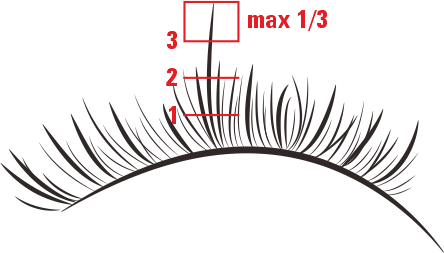 LASH EXTENSIONS MATERIAL
The eyelash extensions material is polyester fiber (PBT) from which both silk lashes and mink lashes are produced, in the final stages of production is used different technologies.
EYELASH EXTENSIONS THICKNESS (diameter)
The choice of lash thickness depends on the client's own natural lash thickness. The more similar thickness the lash extension we find to the natural lash, the larger and stronger is the attachment point. Then we can be sure that the extended lashes do not fall off and do not burden the natural lashes.
0.03, 0.04, 0.05, 0.06, 0.07, 0.085 mm – are very thin extension hairs, which are mainly used to apply volume lashes, using them in several bundles.
0.10, 0.12, 0.15, 0.18 mm – are medium-thickness lashes and are used for the classic lash extensions, meaning one-to-one technique.
0.20, 0.25 – are very thick lashes, which are recommended to be used only in very extreme cases, when the client's natural lash hair allows such weight and thickness.
EYELASH EXTENSIONS CURLS

PRE-MAID LASH EXTENSIONS
Working with pre-made eyelash extensions is many times faster and more efficient. This saves not only the lash technician but also the client's time.
Working with pre-made eyelash extensions allows you to serve up to 4 customers more a day, which also means more money. The material is more expensive, but in general the efficiency and quality of work is the highest.

GEL PAD PATCHES
Before applying eyelash extensions, the client's lower lashes should be separated with gel pad patches to prevent lash extensions being applied on the lower lashes.
Gel pad patches come in different sizes and therefore the most suitable one for the customer should be chosen. As a result of using gel pad patches, the gel can sometimes come out of the pad and irritate the client's eyes and make them watery.
If the client closes the eye, pull the gel pad down if necessary so that it does not touch the eyeball. If the client's eyes are sensitive to gel pad patches, a soft tapes can be used.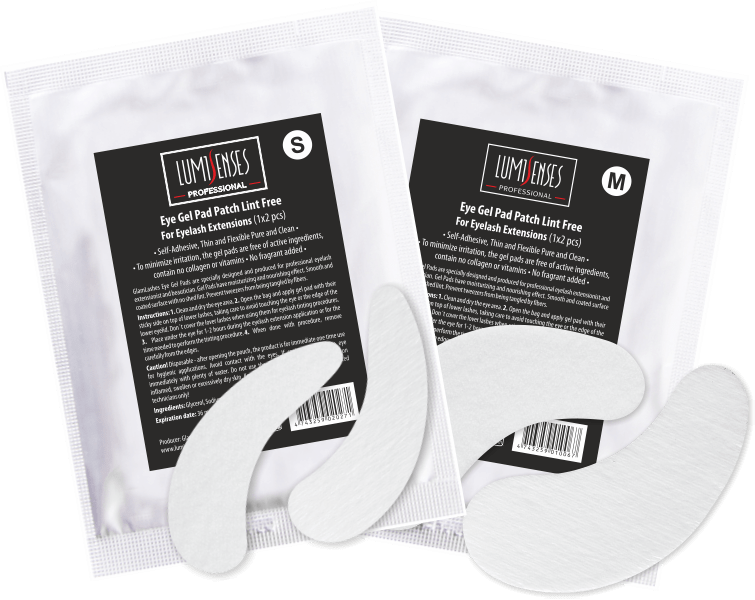 ADHESIVE BASES
For Lumisenses LED System, we recommend using a special adhesive base. Other different adhesive bases such as glass, stone, plastic, foil, tape, ceramic, silicone reflect light and the adhesive hardens faster on these bases.

LIGHTING AND VENTILATION REQUIREMENTS
The overall light density of the room should be 400 LX and the spot light 2000 LX. Make sure that the lights does not cure the adhesive as many LED lights contain the adhesive curing spectrum. Ventilation should correspond to an air exchange of 2.5 l / sec per m². The room must have a sink and water supply.
HYGIENE, HEALTH AND SAFETY REQUIREMENTS
Most important is the health and safety of the eyelash technician and customer. We ask you to pay special attention to this, because your work includes eye and an eye area that is related to both our own and our customers' very important mind, which is the sense of sight.
Failure to observe and comply with the safety instructions may result in irreversible consequences.
Wash hands before every client.
Disinfect hands with disinfectant, which is meant for skin.
Disinfect all instruments (like tweezers, brushes, heated eyelash curler ect.) with special disinfectant which is meant for them.
Disinfecting work surface is also important, use special disinfectant.
Using disposable implements (like gel patches, caps, tape ect.) are mandatory and after using them, throw them away to closed pin with trash bag.
Eyelash technician has to use disposable surgical mask during the procedure.
It is not recommended to wear outdoor footwear.
Skin contact with eyelash glue, remover, pre-treatment needs to be avoided.
In case of skin contact, remove the product with a cotton pad soaked in water.
If glue gets on skin, first you need to apply remover on a microfiber brush and remove the glue, after that use a cotton pad soaked in water.
If any product mentioned above gets contact with eyes, rinse clients eyes immediately with plenty of water and consult with doctor.
Working with tweezers is only allowed from clients forehead, sharp tweezers ends directed to cheeks.
Apply gel pad patches at least 3 mm from mucous membrane because they can contain eye irritating components.
Using LUMISENSES® products is on every technicians own responsibility and must not be used without a special training.